Star Party!
---
Did you know there is a National Astronomy Day in the United States? It falls between mid-April and Mid-May every year, is chosen to coincide with the days just prior to the first quarter moon and is surrounded by Astronomy Week, which begins the Monday preceding.

If your Quinceanera falls during this special celebration of the heavens, you may want to go all-out with the theme by utilizing stars in your quinceañera invitations, décor and even your attire!

Here's some inspiration for you: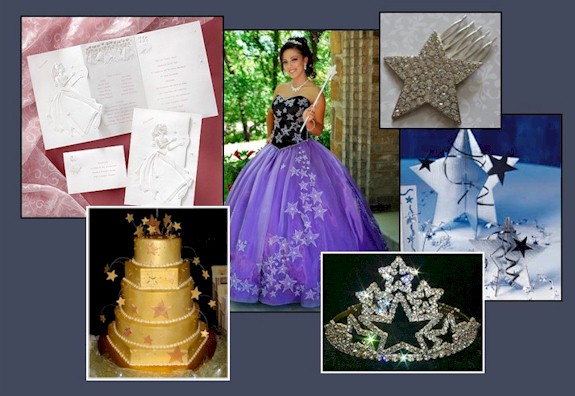 Clockwise from top left:
Dancing With the Stars Quinceanera invitation, Invitations4Less.com
Star-Studded Quince ball gown: QuinceAnos.org
Twinkle Star Hair Comb: by seller Mykonos on Etsy.com
3-D Star Centerpiece: Shindigz.com
Stacked Stars Tiara: RhinestoneJewelry.com
Golden Stars Tiered Cake: CakeChannel.com

By Joyce Buczek
Google+

Joyce Buczek was the founder and original owner of Invitations4Less.com in 1999. She continues working with Invitations4Less.com as a consultant and guest blogger. In her spare time, Joyce enjoys traveling, cooking and spending time with her family, including 2 spoiled cats.


---
Comments
Blog Index