Making a Splash For Your Sweet 16!
---
Summer is finally here and if you are turning 16 during this fun season, a pool party is a perfect way to celebrate your special day. We've got some great tips for your festivities.

Set the mood for your party by decorating with artificial palm trees, and other tropical items like paper pineapples and parrots. Add tiki torches around the perimeter and strategically place towels on chairs and chaise lounges. You can make cute centerpieces by filling small plastic beach buckets with sand, inserting beach toys into the sand, and then tying brightly-colored helium-filled balloons to the handle. Place beach balls, floats and other fun beach accessories in the pool.

Select a menu and fire up the grill. Hamburgers, hot dogs, and bratwurst are traditional favorites, but you may also consider grilling kebobs. Don't forget that you may have some vegan or vegetarian guests, so be sure to consider their needs when planning.

Prepare several fruit trays for your guests, and for beverages, you can serve non-alcoholic versions of margaritas, piña coladas, and mai tais. Add tropical flair to the beverages by topping each drink off with a small paper umbrella.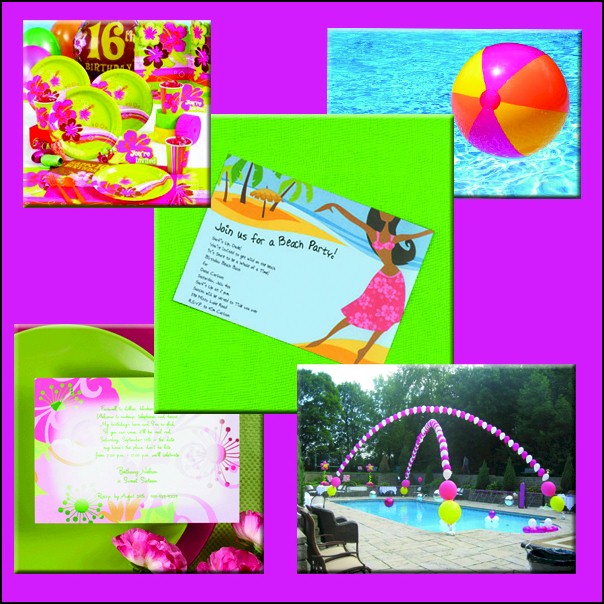 Arrange for a DJ to spin tunes for you and your guests. If your party will go into the evening, rent a big screen and show a beach-themed movie. Or, play a DVD that includes a photo montage of the guest of honor from birth to the present.

So, you don't have a pool, but would love a pool party for your Sweet 16? Contact your local country clubs. Most have pools and would be happy to accommodate a party for you.

Because a successful pool party is dependent on the Mother Nature, be sure to select an alternate date for the party in case of inclement weather.

We've given you some great ideas for hosting a great party, but remember: A great party starts with the perfect Sweet 16 invitations from Invitations4Less.com!

By Jeanne Woodyard
Google+

Jeanne has worked in the printing industry for nearly 30 years and became the new owner of Invitations4Less.com on January 1, 2012.
When not working with our customers, Jeanne enjoys spending time with family and friends, RVing with her husband and spoiling her two kitties.


---
Comments

Name: Alicia Toon
Location: Derby
Location: How do I get all the balloons over the pool

Name: Jeanne
Location: Dubuque, IA
Location: Hi Alicia, We recommend contacting a business that specializes in balloon decorating to achieve this great look! Good luck with your planning!

Name: Jeanne
Location: Dubuque, IA
Location: Hi Alicia, We recommend contacting a business that specializes in balloon decorating to achieve this great look! Good luck with your planning!

Blog Index