Sweet Things Thursday: A Beary Special Birthday
---
Who doesn't love a First Birthday Party? I recall images of my nieces and nephews as they dug into their first birthday cakes. Some approached the cake with much enthusiasm while others were a bit skeptical. Either way, by the time he or she was done with it, well, you can imagine the frosting on their fingers, faces, and in their hair, right?

Set the theme for your party with the perfect birthday invitation. Bear themes are popular for both boys and girls, and our Beary Special Birthday Invitation combines the Number 1 with a cute bear playing peek-a-boo.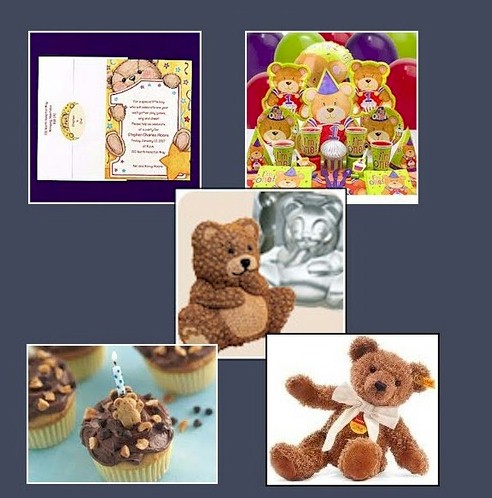 Paper plates, cups, tablecloths and napkins with bear designs can be found online or at just about any party store. Finish off your decorating with some helium-filled balloons that feature matching bear designs.

A birthday cake, or birthday cupcakes? Either choice is popular and options abound. A flat sheet cake is always a great idea, but have you seen the 3-D cake pan that Wilton offers? Or, you can take Teddy Grahams and place one atop frosted cupcakes.

Of course, the little guest of honor would love to open a package wrapped in bear-themed paper with a snuggly teddy bear inside!

Having a bear-themed birthday party for your one-year old? Send us your photos! We'd love to see them!


Images are courtesy of:
A Beary Special Birthday Invitation: available from Invitations4Less.com
Table Accessories: available at cnydiscounts.com
3-D Bear Cake Pan: available at wilton.com
Cupcake: available at tablespoon.com
Teddy Bear: available at 1st-birthday-party-ideas.com


By Jeanne Woodyard
Google+

Jeanne has worked in the printing industry for nearly 30 years and became the new owner of Invitations4Less.com on January 1, 2012.
When not working with our customers, Jeanne enjoys spending time with family and friends, RVing with her husband and spoiling her two kitties.


---
Comments
Blog Index