Trendy Class of 2016 Graduation Announcements
---
When it comes to your future, there's no messing around. We know that and we want to help you stay ahead of the curve with some stylish graduation invitations! Cue the lineup of our newest and most popular graduation announcements for the graduating class of 2016.

Classy Typography Photo Graduation Invitation
This classy invitation takes your best photo and combines it with handsome typography to create a uniquely striking graduation invitation. The best part of all? It won't break the bank!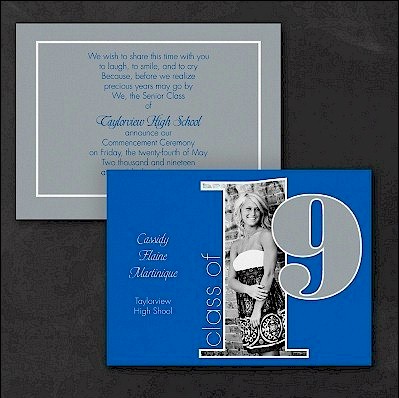 Snapshot Graduation Invitation
This photo-laden graduation invitation allows you to show off your pearly whites from a variety of angles and perspectives. The artful four photo arrangement lets your personality (and, of course, your good looks) speak for themselves.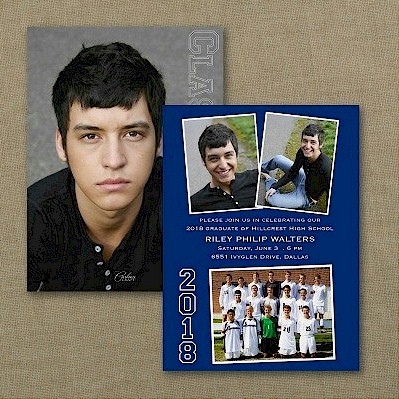 Marvelous Memories
Graduation have you feeling nostalgic? Look no further than the Senior Memories Graduation Invitation. This invitation allows you to tastefully share your wonderful memories with all of your guests --- without talking their ears off. You can customize the colors, fonts, and photos on this invitation so it showcases your personality perfectly.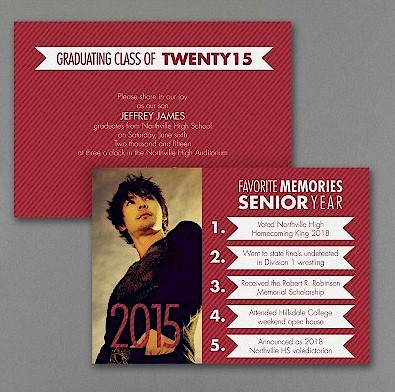 Effortless Elegance
This chalkboard-inspired celebration invitation uses ribbon accents, simple dots, and precision placement to create an elegant and sleek graduation invitation. This invitation is an easy favorite full of effortless style.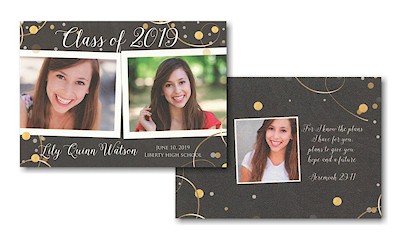 Show Your Colors
The Class Colors Graduation Announcement allows you to proudly display your class colors. A choice of majestic red or royal blue detailing artfully incorporates class colors into this timeless invitation.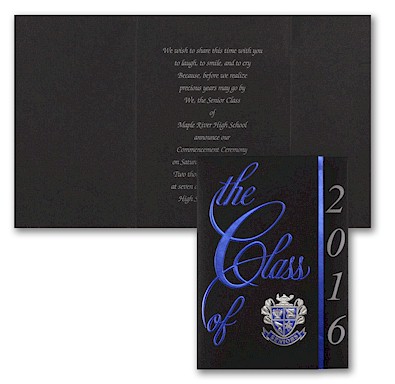 Keeping It Classy
The Classic Style Graduation Invitation keeps things simple --- yet it is loaded with class. The gold foil design featuring a crest and beautiful calligraphy lets your card do all the talking. If you're traditional and a bit of a minimalist, this invitation is for you!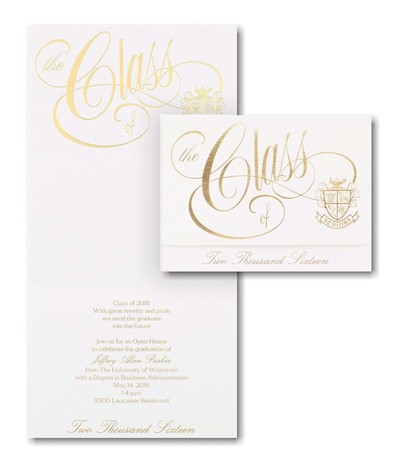 All Your Graduation Needs Invitations4Less has an extensive collection of dynamite Discount Graduation Invitations that you can customize to fit your graduate's unique style. We also have a large collection of graduation party supplies and accessories. If you'd like some personal assistance finding just what you need, send us an email. We'd love to help you find the perfect invitation and/or supplies --- all at affordable prices!

By Abby Teunissen
Abby is passionate about embracing diversity, fostering learning, and supporting rural communities. She lives with her husband and daughter on a grain and cattle farm near a small town in Northwest Iowa. When she's not whipping up blog posts or plugging away on other digital marketing projects, Abby enjoys spending quality time with her family, tending to her garden while soaking up all the Vitamin D she can get, helping her husband around the farm, and patiently awaiting her long overdue letter from Hogwarts.


---
Comments
Blog Index