Top Trends in Wedding Invitations
---
OneWed.com, America's leading online wedding planning site, recently revealed their top ten wedding trends of 2011 and we're anxious to see how they're translate to wedding invitations!

Only time will tell, of course, which invitations emerge as the most popular of the year, but just for fun, we'd like to show you our picks for capturing the spirit of 2011.



Trend # 1: Return to Sophisticated Elegance -
Although there will always be a call for something unique and different for some bridal couples, the return to elegance could mean choosing a genuine copperplate engraved invitation such as this Triple Panel Engraved Wedding Invitation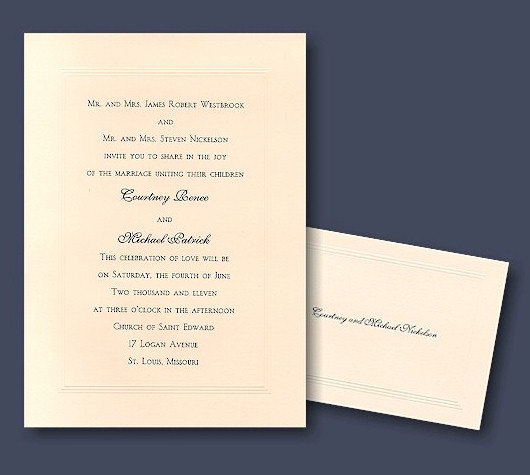 or a traditional yet trendy invitation with a letterpress frame around a stylish monogram, such as our Ornate Wedding Invitation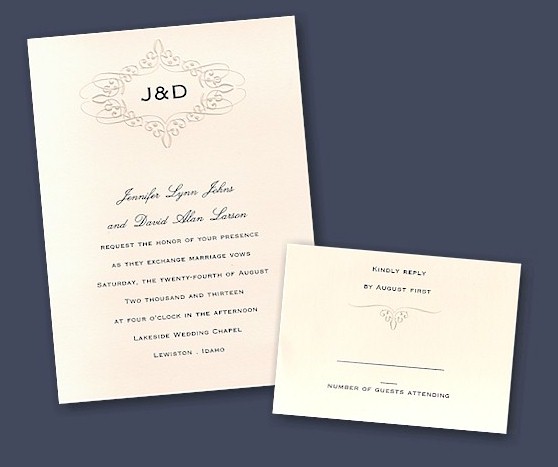 Either way, you can't go wrong. The look is timeless and elegant and you'll still think so 25 years later.



Trend #2: Outdoor Venues -
For couples tying the knot in an outdoor ceremony, there is a strong desire to incorporate that theme from beginning to end, starting with the invitation. Whether your wedding will be held at a winery,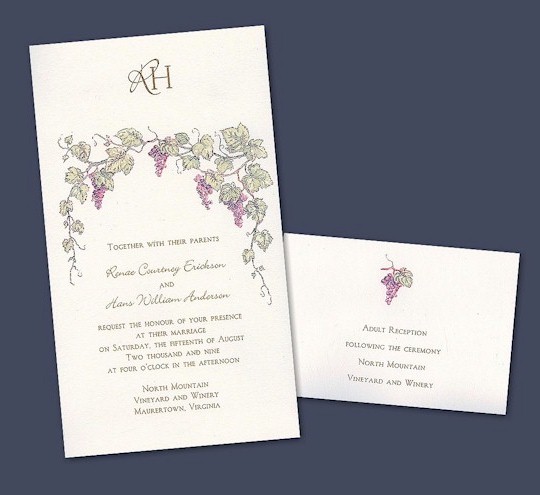 in the mountains: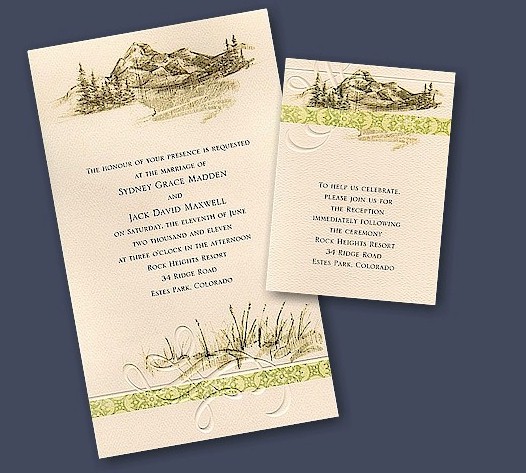 or at the shore: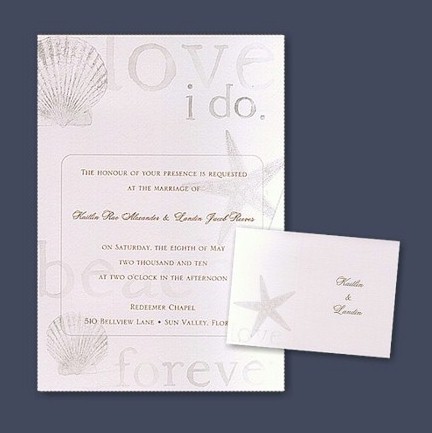 you're in luck!



Trend # 3: Grey and Navy -
They say Grey is the new Black, and it's everywhere! Grey is neutral, yet soft; elegant yet accessible.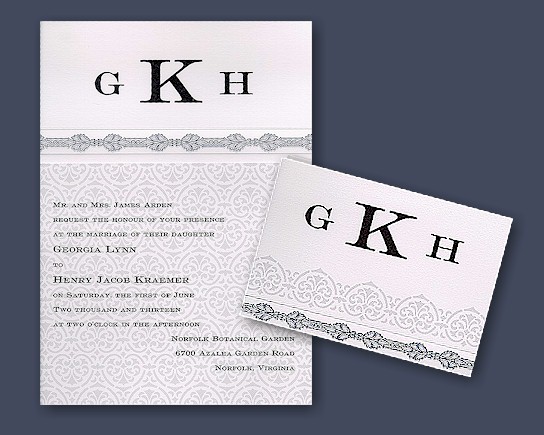 We love this chic and affordable invitation for it's incorporation of three hot trends: Grey, monograms (see trend #1) and Silver (see trend #4).


If you're in more of a Navy mood, try the Navy Shimmer Gate-fold Wedding Invitation from Stylart, a timeless invitation on navy shimmer stock tied with a grey satin ribbon.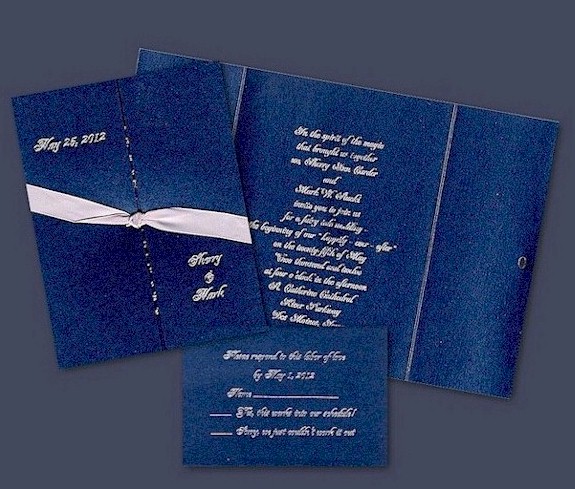 Your invitation wording is foil-stamped in silver for an elegance that's hard to replicate with DIY.



Trend # 4: Metallics paired with more metallic and bold colors -
Metallics make such a bold statement that they can take center stage and allow the budget-savvy couple to actually use less décor. Start with an invitation that speaks volumes in a minimalist style such as our new Champagne Swirls Wedding Invitation from Carlson Craft.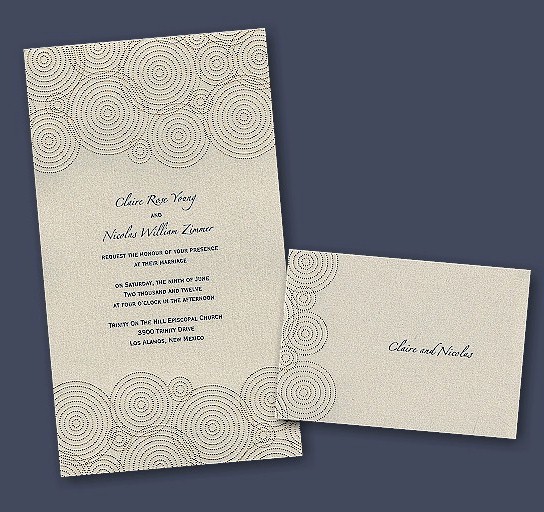 Trend #s 5 & 6: Ball Gowns and Elegant Tuxedos -
OneWed predicts a return to high style in wedding attire, which calls for the entire wedding, from invitation to get-away to step up. So, what will the best-dressed invitations of 2011 be wearing? We like elegant shimmer paper with pearl flourishes and a little touch of bling: nothing over the top, but simply elegant like this Glamour Wedding Invitation from Carlson Craft.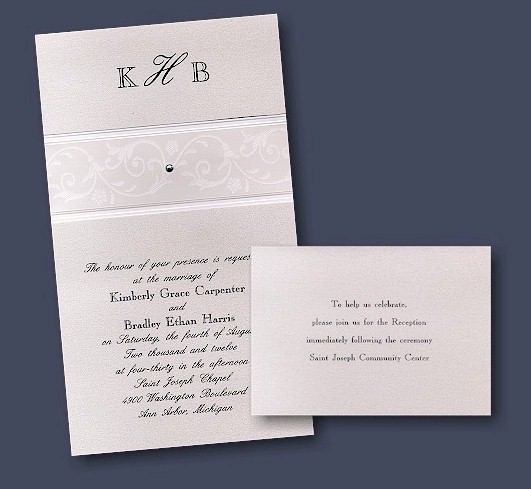 Trend #7: Eco-Friendly Wedding Invitations -
Brides and grooms have been clamoring for eco-friendly invitations for a few years now and the manufacturers have been listening. They're increasing their offerings with new styles and upping the recycled-paper content to a full 100% post-consumer recycled paper in many cases. For 2011 we love the Sunburst Recycled Paper Invitation on 100% PCW-recycled paper which incorporates the favorite color, Grey!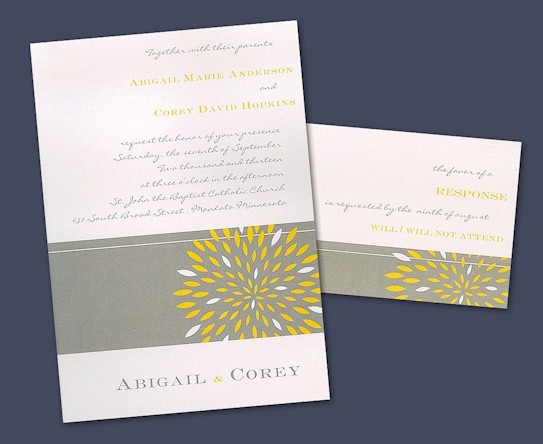 Trend #8: Luxurious Textures -
Why let the gown and table linens have all the fun?
Textured paper can tell a story all it's own and convey a feeling of being rustic, elegant or cutting-edge. If luxurious texture is where it's at for 2011, we like this rich pinstripe textured invitation from Carlson Craft's Candlelight Collection.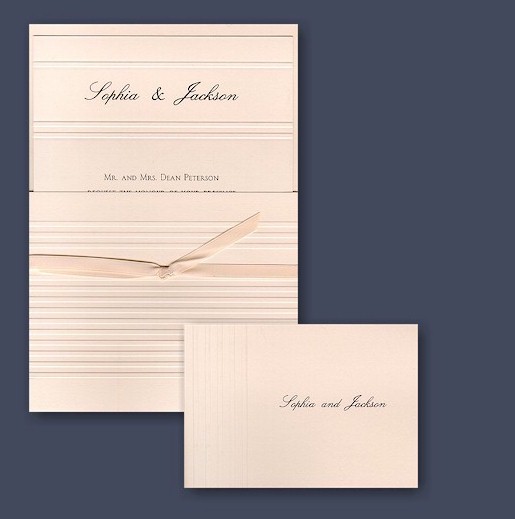 Trend #9: Ethnic Influences -
Options abound when it comes to adding a touch of your culture to your wedding celebration. For a truly knock-out option we love the Lotus Wedding Invitation with an Indian influence from the Simple but Elegant album.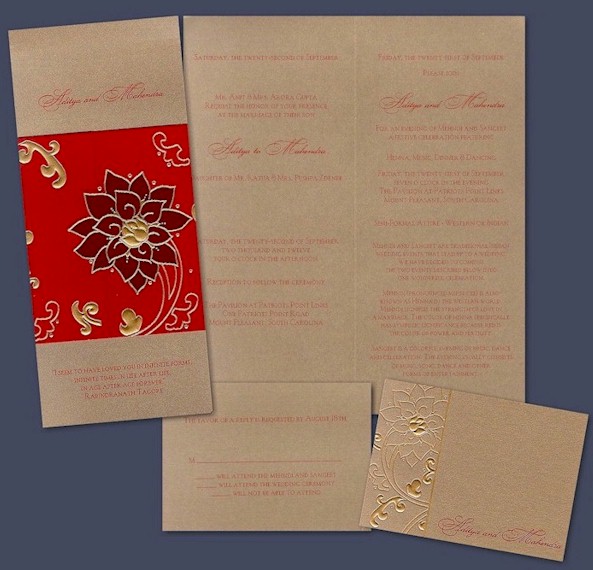 Trend #10: Wedding Parties Into The Wee Hours -
Although the concept isn't new, we expect that more couples will be planning for late-night parties and wedding weekends than ever before! Why not convey the message to your favorite revelers with a separate card announcing the plan to party until the cows come home? Matching wedding stationery is de rigueur, and should be used if the party announcement will be included with the invitation ensemble in one mailing.
But if you're planning a separate mailing for your after-hours party pals, anything goes!

By Joyce Buczek
Google+

Joyce Buczek was the founder and original owner of Invitations4Less.com in 1999. She continues working with Invitations4Less.com as a consultant and guest blogger. In her spare time, Joyce enjoys traveling, cooking and spending time with her family, including 2 spoiled cats.


---
Comments

Name: Brandi R.
Location: Prior Lake, MN
Location: LOVE this post! There are some beautiful invitations for me to share with my fiance :)

Blog Index