Breaking Dawn Wedding Invitation: Get Yours Here!
---
Now that Breaking Dawn, Part 1, has been in the theatres for a couple of weeks, I thought it was time to revisit our blogs from earlier this year which feature Edward and Bella's wedding invitation.

You've probably read many blogs about wedding invitations in general: how they set the mood and tone for the special day. In Breaking Dawn, this is also true as the movie opens with Jacob receiving his invitation and angrily throwing it to the ground in the pouring rain. Meanwhile, Charlie is carefully studying his own invitation and contemplating what it all means. Jacob and Charlie both love Bella and have mixed emotions about the upcoming nuptials.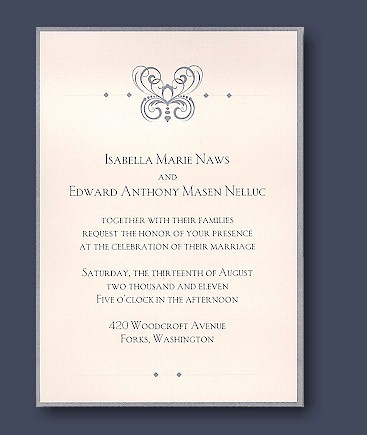 The wedding invitation made for the movie was copperplate engraved and features a silver border and a lovely motif at the top. Connor Fine Engraver & Stationer of New York was commissioned with creating the invitation.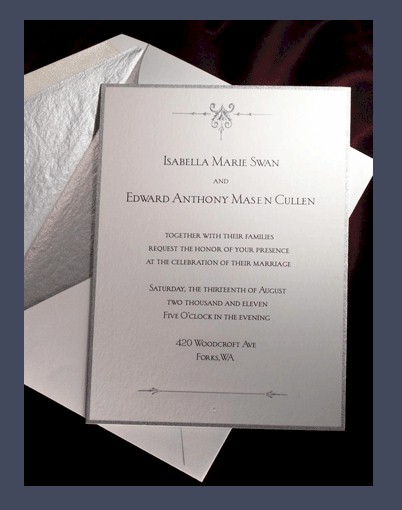 When the original invitation image was made public last summer, the creative team at Invitations4Less.com went to work to create our own version of Edward and Bella's invitation. Little did we know that our invitation design would more closely match details portrayed in the movie!

If you've seen the movie, you'll immediately recognize that the elegant motif at the top center of our invitation coordinates wonderfully with the cut-out illusion on the back of Bella's wedding gown. What's more, the heirloom hairpin that was Charlie's gift to Bella on her wedding day resembles the same design.

Having read the entire Twilight series and enjoyed each of the movies thus far, imagine my excitement when I saw Bella in her wedding gown for the first time. The invitation design that we created so closely captures the mood and theme of the wedding, even more so than the actual invitation prop which was used.

While you can purchase the original at about $25 per invitation, you'll be pleased to know that 100 of our Breaking Dawn wedding invitations cost a mere $86! Contact us for details on ordering this exclusive-to Invitation4Less.com wedding invitation!

By Jeanne Woodyard
Google+

Jeanne has worked in the printing industry for nearly 30 years and became the new owner of Invitations4Less.com on January 1, 2012.
When not working with our customers, Jeanne enjoys spending time with family and friends, RVing with her husband and spoiling her two kitties.


---
Comments

Name: Britney Kurtzleben
Location: Mason City, IA
Location: could i please get details on ordering personal invites in the twilight template? thanks

Name: Jeanne
Location: Dubuque, Iowa
Location: Hi Britney, we are thrilled that you love this invitation as much as we do! Here's a link for ordering details: http://wedding.invitations4less.com/InvitationWizard.asp?InvitationID=1022

Name: Jeanne
Location: Dubuque, Iowa
Location: Hi Britney, we are thrilled that you love this invitation as much as we do! Here's a link for ordering details: http://wedding.invitations4less.com/InvitationWizard.asp?InvitationID=1022

Name: angela
Location: Boston Mass.
Location: I have been looking for these everywhere. how long do they take to print and ship? my wedding is in months

Blog Index