Twilight Wedding Invitation Blunders
---
They're your wedding invitations, and naturally you want them to be perfect. So why try to tackle this important project on your own? Unless you have worked in the social stationery business, chances are that you don't know the do's and don'ts for properly wording your invitations. Because you want everything for your wedding to be flawless, let the experts at Invitations4Less.com assist you with your invitation details.

Last week, we unveiled the wedding invitations for Bella and Edward of the Twilight Saga's Breaking Dawn movie due out later this year. The invitation itself is beautiful and we think it will be a trendsetter for upcoming weddings. But, to our dismay, we noticed several blunders in the wording.



Eclipse and Breaking Dawn

First, abbreviations were used for the words "Avenue" and "Washington". These should always be spelled out.

Next, the "O" in "o'clock" is capitalized and it shouldn't be. Additionally, "five o'clock" is in the afternoon, not "in the evening" as printed on the invitation.

We also don't know where the ceremony will be. Sure, we've been given the address, but we don't know if the address is for a park, a church, or the Cullen mansion. The name of the place is an important element to include on the invitation since it helps guide your guests in the proper dress for the occasion.

These may seem like minor details to some, but to etiquette aficionados, these types of errors jump off the page and cast a cloud over what would be a splendid invitation if it were truly done correctly.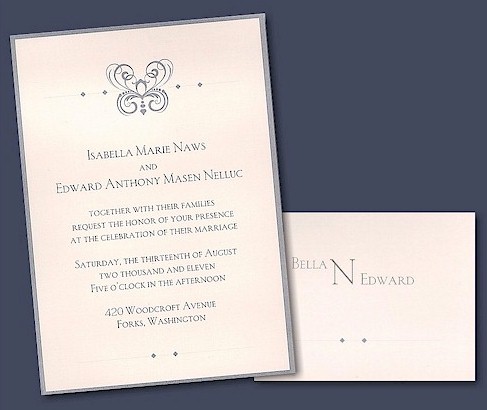 We've recreated an invitation that we think Bella and Edward would be proud to send to their guests. It's simple, yet very elegant and follows all the rules of proper etiquette. We're excited to announce that our "Twilight Concept" invitation will be available for order online within a couple of weeks, and will, of course, be backed by the full assistance of the etiquette experts at Invitations4Less.com.

Invitations4Less.com has been online for 12 years assisting couples with their wedding stationery needs. Our invitation experts have an average of 13 years' experience and a combined total of nearly 80 years! You can count on us to make sure your invitations are just want you've always dreamed of!
Please visit our wedding pages for a beautiful selection of wedding invitations backed with the expertise of etiquette professionals!

By Jeanne Woodyard
Google+

Jeanne has worked in the printing industry for nearly 30 years and became the new owner of Invitations4Less.com on January 1, 2012.
When not working with our customers, Jeanne enjoys spending time with family and friends, RVing with her husband and spoiling her two kitties.


---
Comments

Name: melissa
Location: hhibhj
Location: Why is their last names spelled backwards my bad..

Name: Jeanne
Location: Dubuque, Iowa
Location: Hi Melissa, We intentionally spelled their names backwards for fun. You are the first person to notice it! We were trying to show that any couple who loves this invitation as much as we do may order it for their wedding. We hope you enjoyed the blog! ~~Jeanne

Blog Index