A Few of Our Favorite Things... for Valentine's Day
---
We're all about love this week. Here are a few of our favorite things as we celebrate Valentine's Day.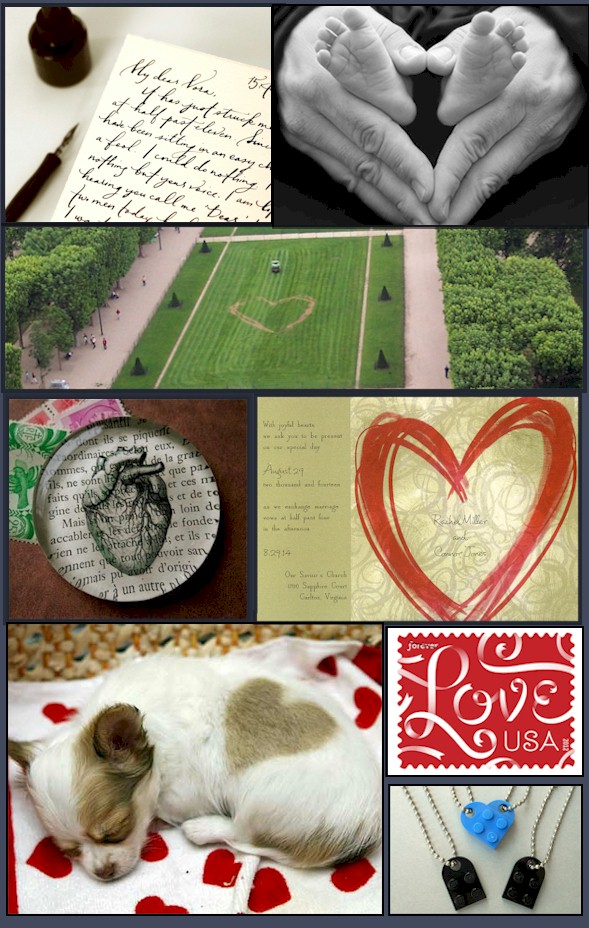 From top left:
- Have your love letter hand-written in beautiful calligraphy by Paperfinger
- What could be a more touching tribute to a parent's love than holding their infant's feet in their hearts? (image courtesy familylifematters.com)
- A public expression of love in Paris (as seen from the Eiffel Tower). Photo: Joyce Buczek
- Avoid the cliché and get right to the point. Anatomical Heart Paperweight from Etsy Seller CrowBiz
- Follow Your Heart Wedding Invitation from Carlson Craft, available from Invitations4Less.com
- Puppy with Heart mark courtesy BabyAnimalz.com
- Love Postage Stamp available from US Postal Service
- Lego Friends Heart Necklaces snap together to form a heart. Available from Etsy seller Nouveau Compliments

By Joyce Buczek
Google+

Joyce Buczek was the founder and original owner of Invitations4Less.com in 1999. She continues working with Invitations4Less.com as a consultant and guest blogger. In her spare time, Joyce enjoys traveling, cooking and spending time with her family, including 2 spoiled cats.


---
Comments
Blog Index