Valentine's Day Wedding Inspiration
---
With Valentine's Day this week, my thoughts have turned to love, romance and marriage. I am hoping for a marriage proposal soon, but I have one small problem that could hamper it - I need to meet and fall in love with the prospective groom first! After another Valentine's Day just two days ago, you can bet there are scores of newly-engaged couples out there! According to statistics, about 2.2 million couples get married every year in the United States. Some say that about 10% of those engagements each year begin on Valentine's Day. Similarly, Valentine's Day is a great choice for the wedding day too. How romantic is that?

Whether you're newly-engaged or planning a Valentine's wedding for next year, you will need to think about your wedding invitations. You can find a great variety of invitations with hearts to help express the love you two feel and the love inherent to Valentine's Day.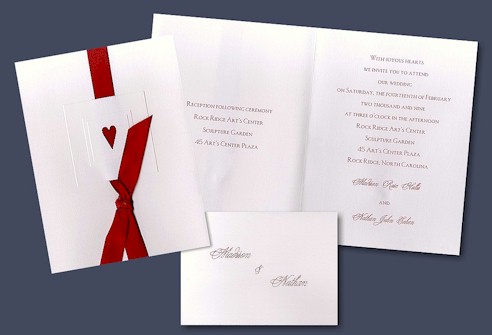 Or, in keeping with traditional colors, a selection of wedding invitations in red can also be found. There are also hundreds of varieties of hearts or Valentine's-themed decorations and accessories available. Want a pink heart-shaped wedding cake? Red garters? Cupid-inspired decorations at the reception? All can be found.

No matter what day you actually get married, the love you feel on Valentine's Day can be brought into the celebration by using a beautiful wedding invitation, decorations, even food, champagne flutes and a cake topper to express your theme. This year I had a nice dinner date with a good friend. Maybe next year I will be referring back to my own advice for something more!

By Caron
Caron has been assisting customers to announce and invite guests to their important life events since 2000.
In her hours away from Invitations4Less.com, Caron enjoys relaxing at home with her two children and two cats and spending time with friends.


---
Comments
Blog Index