Wedding Invitation Verses
---
Iíve seen a lot of wedding invitations in the past 12+ years and a lot of trends that have come and gone. Everything from colors to themes, and even fonts, can be used to convey personal style and individuality. But thereís nothing like the written word to truly personalize your wedding invitations which will be not only the introduction many of your guests will have into your unique love story, but a memento of your special day for years to come.

Since Iím a bit of a romantic, I thought Iíd compile a list of my top 10 favorite wedding verses of all time. These verses work well as a short intro into your wording or can be printed on the front or inside panel of a folded invitation. For assistance with the body copy of your wedding invitation wording click here.

10. I think this is just darling for a Western Wedding Invitation and it gives your guests a hint at the style of your shindig.

Two-Stepping our way
into a new life...
The dance will begin
for a husband and wife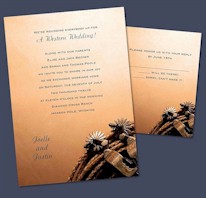 9. We work with a lot of couples who are marrying again and merging families. I love seeing the ways that many couples are helping the children feel a part of the big day by incorporating their names in the invitations, as well as including the children in rituals of the wedding ceremony. This is my favorite verse for invitations that bring a new family together:

My family, your family - blending as one
Sharing, caring - a new life's begun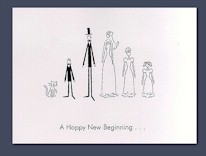 8. Years ago, my husband gave me a sundial with this quote by Robert Browning. I still love it!

"Grow old with me!
The best is yet to be"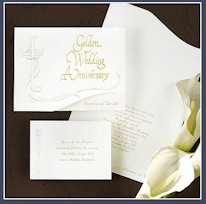 7. I donít live near the beach, but I wish I did! If I was lucky enough to be on the beach for my wedding, Iíd surely choose this verse:

As unique as a seashell
as deep as the sea
As eternal as the waves
our love is meant to be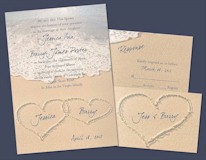 6. Anybody who knows my husband and me knows that we love to travel! If we were getting married again, I might just choose this verse:

Before us lies the open road...
a future filled with adventure and love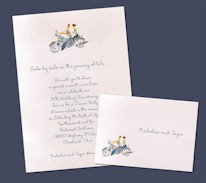 5. This is a quotation by an unknown author. I love how this speaks to the growth of love through the sharing of emotions:

"When you smiled you had my undivided attention
When you laughed you had my urge to laugh with you
When you cried you had my urge to hold you
When you said you loved me, you had my heart forever"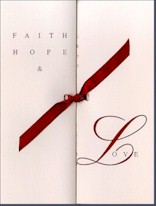 4. Christmas! Itís so twinkly and magical and filled with fantasies. If I were getting married at the holidays, Iíd love to add this verse to my invitations:

True Love is the reason
we'll gather at this season;
Wedding Bells will ring -
what joy this Christmas brings!


(I can just see this one with a combination of fonts with Love, Wedding Bells and Christmas in a script)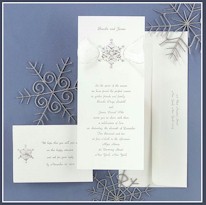 3. Because my own relationship grew out of a friendship, Iím particularly fond of this verse:

A friendship that was shared by two
has grown into a love so true.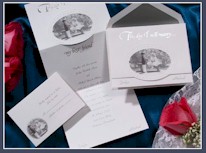 2. Have I mentioned Iím a bit romantic?

When I look in your eyes
I delight in your being
and when you take my hand
I delight in our being together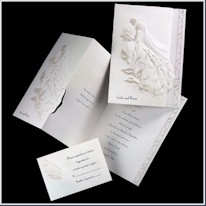 1. And my favorite love quote of all time, that I think would be so beautiful on a wedding invitation:

For it was not into my ear you whispered
but into my heart
It was not my lips you kissed
but my soul
- Judy Garland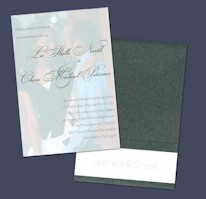 Whatís your favorite love quote?

By Joyce Buczek
Google+

Joyce Buczek was the founder and original owner of Invitations4Less.com in 1999. She continues working with Invitations4Less.com as a consultant and guest blogger. In her spare time, Joyce enjoys traveling, cooking and spending time with her family, including 2 spoiled cats.


---
Comments
Blog Index