Trend Alert: Wedding Pies!
---
The Los Angeles Times recently reported that pies are increasing in popularity, with the traditional wedding cake being replaced by the wedding pie.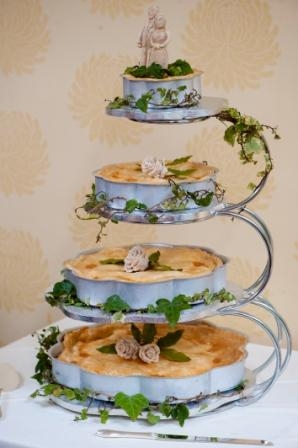 This begs the question: will invitation designers be inspired to incorporate the wedding pie as a design element on new wedding invitations?

All aspects of the wedding event have been incorporated onto wedding invitations for years. These designs can be printed, embossed, foil stamped, letterpressed, or even engraved onto plain paper. The use of multiple processes is not uncommon, turning ordinary paper into a piece of art worthy of inviting guests to a wedding or other social event.

Wedding symbols have long influenced designers to integrate those images into wedding invitations. Wedding bouquets, wedding bells, horse-drawn carriages, and wedding rings are just a few examples of the use of symbolism in the design of wedding invitations.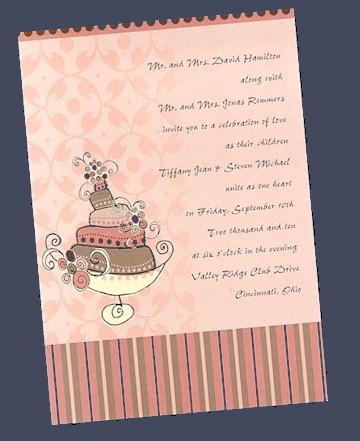 Wedding cakes have also been a popular design for wedding invitations, bridal shower invitations, and save-the-date cards. This is probably because evidence of wedding cakes goes back at least 1000 years, making it a tried-and-true tradition.

While wedding pies may seem to be a new trend on the wedding scene, there was a period of time – from 1650 to 1800 – that they were quite popular, especially at weddings of the wealthy and influential. Wedding pies of the past were not of the sweet variety we enjoy today; instead they were often made with mince or mutton. A glass ring would be baked into the pie, and the woman who found the ring was considered the next to be married.

Will new trends become wedding traditions in the years to come? Can we expect to see images of wedding pies on invitations? Only time will tell!



Wedding pie photo is courtesy of Pie&. Visit them at: http://www.pieand.co.uk




By Jeanne Woodyard
Google+

Jeanne has worked in the printing industry for nearly 30 years and became the new owner of Invitations4Less.com on January 1, 2012.
When not working with our customers, Jeanne enjoys spending time with family and friends, RVing with her husband and spoiling her two kitties.


---
Comments
Blog Index