Wedding Save The Dates
---
Without a doubt, planning a wedding is an exciting time for the bride and groom.
For the guests, there's also a certain amount of planning that takes place.

I know that when I'm invited to a wedding, I begin my planning by considering the venue. Then I narrow down what I'm going to be wearing and more often than not, I begin searching for the perfect outfit, going from store to store. Not that I want to outshine the bride, groom, and the wedding party, but weddings are a festive occasion and I want to dress the part. If I have several months' advance notice, I'll simply keep my eyes open for something that will fit the bill.

Based on the engaged couple's bridal registry, I'll begin shopping for the exactly the right gift. Rather than waiting until the day of the wedding, I'll wrap the gift and have it ready to go.

With approximately 15% off all weddings being destination weddings, this is the most compelling reason to send your guests Save-the-Dates. Not only do your guests have to make travel arrangements, but they will likely need to plan for the financial expenses that will be incurred.

If you are getting married in the busy months during the spring and summer, you will definitely want to send Save-the-Dates. Not only is this a popular season for weddings, but there are graduations and family travel plans that guests have to consider.

Invitations4Less.com has a great selection of Save-the-Date cards for your wedding and we are continuously updating our selection. Here are a few of my favorites displayed in this inspiration board: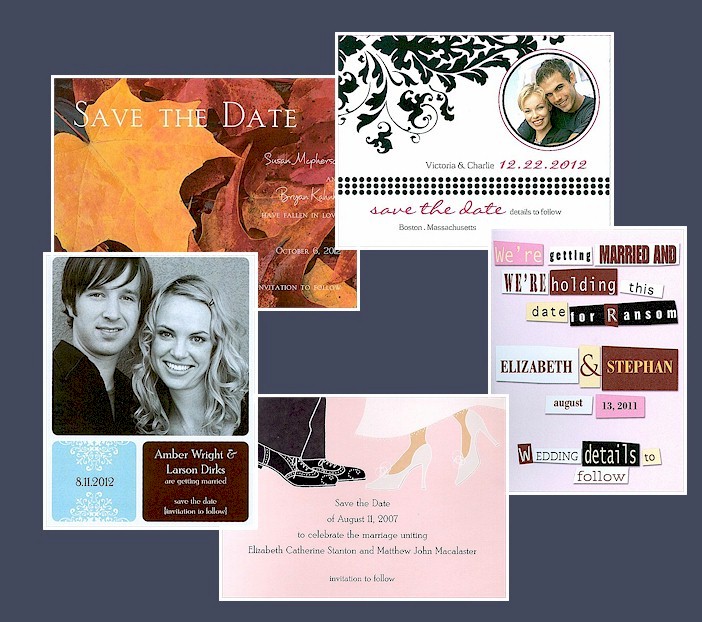 By Jeanne

By Jeanne Woodyard
Google+

Jeanne has worked in the printing industry for nearly 30 years and became the new owner of Invitations4Less.com on January 1, 2012.
When not working with our customers, Jeanne enjoys spending time with family and friends, RVing with her husband and spoiling her two kitties.


---
Comments
Blog Index