Black is Back!
---
You've probably heard the phrase "it's better to be over-dressed than under-dressed" and the same holds true for your Bar or Bat Mitzvah invitations. After all, your invitations set the tone for your event.

Black has a long-standing reputation of being associated with power and elegance. It gives off an impression of formality and prestige. Even though others may try, black will always be "in".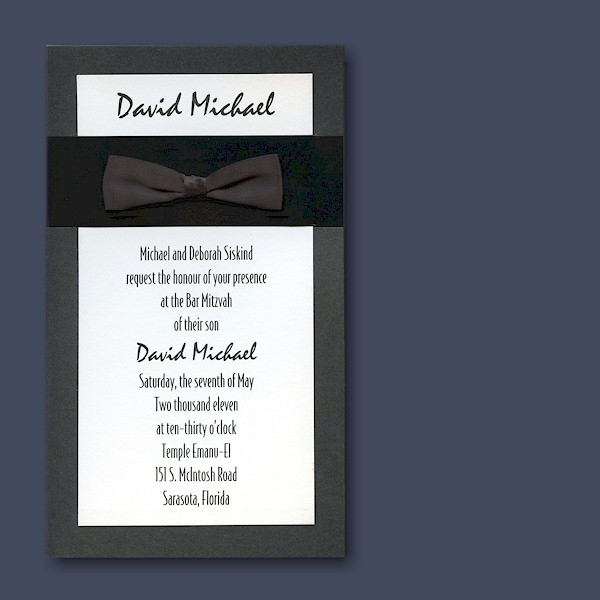 This 5" x 8-1/2" invitation is comprised of a black card layer on which a white card layer is placed. A shiny black band holds the white card in place. The finishing touch—a satin black bow. This elegant invitation would be perfect for any black-tie event!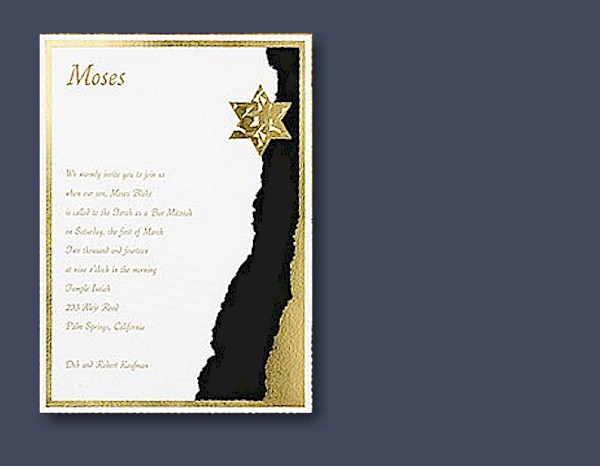 This handsome Bar Mitzvah invitation on single-card stock features a six-pointed star of prismatic gold foil against the background of black and gold foils with ragged edges bordering the right-hand side. The gold foil border continues around all four sides of the 5-3/4" x 8" invitation card, framing your wording. For an added touch, consider doing your wording in two ink colors – black and gold!

The invitation you select for your Bar Mitzvah will be the first impression your guests will get about the type of affair you'll be hosting. We think you'll make a lasting impression with either one of these attractive invitations

By Jeanne Woodyard
Google+

Jeanne has worked in the printing industry for nearly 30 years and became the new owner of Invitations4Less.com on January 1, 2012.
When not working with our customers, Jeanne enjoys spending time with family and friends, RVing with her husband and spoiling her two kitties.


---
Comments
Blog Index