Halloween Parties for 2012
---
When I was growing up, my siblings and I celebrated Halloween by carving Jack-o-Lanterns and trick-or-treating in our very small Iowa town of St. Donatus. We usually used old clothes to craft our costumes and always wore those brittle face masks that I disliked so much.

Well, times have changed. Halloween is right behind Christmas in terms of dollars spent by consumers and adults as well as the kids get into the celebratory mood. Did you know that in 2011 nearly 70% of Americans celebrated the holiday in one way or another? And let's not forget our pets. Last year the National Retail Federation estimated that $310 million (yes, that's million) was spent on pet costumes!

Here at Invitations4Less.com, we've been busy adding new Halloween Party Invitations by PrintsWell. These festive invitations have sparked my excitement for the holiday…it can't come soon enough for me! Below are a few of my personal favorite invitations: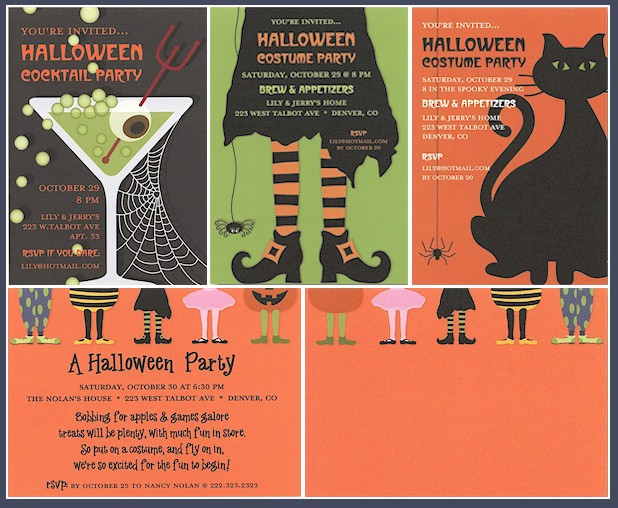 Upper left: Apple Martini Spooky Style

I admit it, I love martinis! This invitation inspired me to host a Halloween party and invite all the guests to bring their own homemade concoction and recipe. The guests will name their recipe and then we'll vote on the most ghoulish cocktail. What will I come up with for my recipe? Perhaps a Corpse Reviver or Dracula's Kiss?

Top center: Bewitched in Style

This colorful Halloween Costume Party invitation is sure to get your guests in the mood for a great time. Since we can't see the witch's head, we really don't know if she's a nice witch or a mean witch. But that little spider that is dangling to her left doesn't look all that scary to me; what do you think?

Upper right: Cosmic Creeper on Orange

I'm a cat lover through-and-through, and to me, this party invitation is too cute! I particularly like the glowing eyes on this cat. Looking at his tail, I'd have to say he's a friendly feline; don't you think? Unfortunately, black cats have taken a bad rap during the season of Halloween. Old superstitions say you're in for bad luck if a black cat crosses in front of you.

Bottom Row: Kid's Costume Party

Round up all your little ghosts and goblins with this colorful party invitation. I'm curious as to what the most sought-after costume will be this year. What's your prediction?

All of our Halloween Party Invitations by PrintsWell are digitally printed on heavy card stock and print on both sides!

Look for more Halloween invitations by visiting this page.

Here's to wishing you and yours a spooktacular Halloween!

By Jeanne Woodyard
Google+

Jeanne has worked in the printing industry for nearly 30 years and became the new owner of Invitations4Less.com on January 1, 2012.
When not working with our customers, Jeanne enjoys spending time with family and friends, RVing with her husband and spoiling her two kitties.


---
Comments
Blog Index