Introducing Our New Designer: YOU!
---
We're all loving the new Pocket Bar and Bat Mitzvah Invitations that have been added just recently. There are some really cool designer options available, but I have to admit that my favorites are the ones that allow YOU to be the designer!

I'm speaking of the Mix & Match Pocket Bar & Bat Mitzvah Invitations from Birchcraft Studios that recently debuted on the site. Birchcraft has long been offering pocket invitations for weddings, but when the opportunity to collaborate with them on designs that would work well for Bar & Bat MItzvah, we jumped at the chance to be the first to offer this special option which won't be debuting in their new Bar & Bat Mitzvah album for a few more months. Judging from the feedback we've received from our customers already, they promise to be a big hit in the market this year!

If you haven't had a chance to check them out yet, here's the scoop- Every Mix & Match Pocket Invitation allows a slew of choices so you can make your invitations as unique as, well, YOU!

- You'll start by choosing your pocket color. There are actually 9 different pocket papers to choose from; 3 shimmer papers and 6 matte paper colors.
- Choose your invitation and accessory card color to complement your pocket color. There are 7 papers to choose from for your printed cards and, bonus!, the envelopes match the card colors. Instant coordination!
- Choose your Border Design. There are 6 options, including 3 Jewish designs and 3 secular designs. Or choose no design at all. The choice is yours!
- Choose your ink color to coordinate with your pocket color and card colors. Will it be black and bold? Or richly red? The choice is yours with 24 different colors available. You could really spice things up and even go with 2-ink color printing, increasing your options to 600 different color combinations just in your inks!
- Finally, choose your typestyle. There are 50 standard font options available, so you're sure to find the perfect individual or combination of 2 typestyles to strike the perfect balance between stylish and readable.
So, you can see why we're so excited about this new invitation added to our Bar & Bat Mitzvah line-up. What appears on the surface to be one simple invitation addition is, in fact, 378 different invitations before you even start choosing your inks and typestyles! And to that, we say let the designer in you loose and enjoy the experience!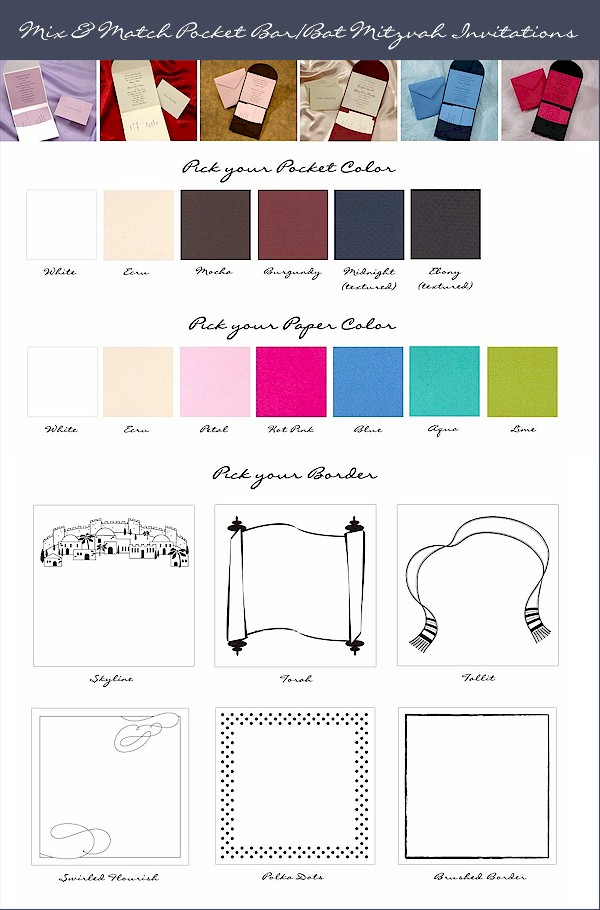 By Joyce Buczek
Google+

Joyce Buczek was the founder and original owner of Invitations4Less.com in 1999. She continues working with Invitations4Less.com as a consultant and guest blogger. In her spare time, Joyce enjoys traveling, cooking and spending time with her family, including 2 spoiled cats.


---
Comments
Blog Index