Winter Wedding Inspiration
---
Fall is in the air here at the Invitations4Less.com headquarters located in Eastern Iowa along the banks of the Mississippi River. Having worked in the wedding invitation business for more than 30 years, I'm used to working ahead in time. Even though it's October right now, we are focused on assisting our customers with their invitation orders for weddings in December, January and February.

Approximately 13% of all weddings occur during the winter months. And 11% of those are Christmas weddings. Winter wedding themes can be as varied as the season itself; but for today's blog I'm going to focus on a Snowflake theme. You know what they say, no two snowflakes are identical, and that symbolism can be carried over to your winter wedding theme.

I'm pleased to share this Winter Wedding Inspiration Board: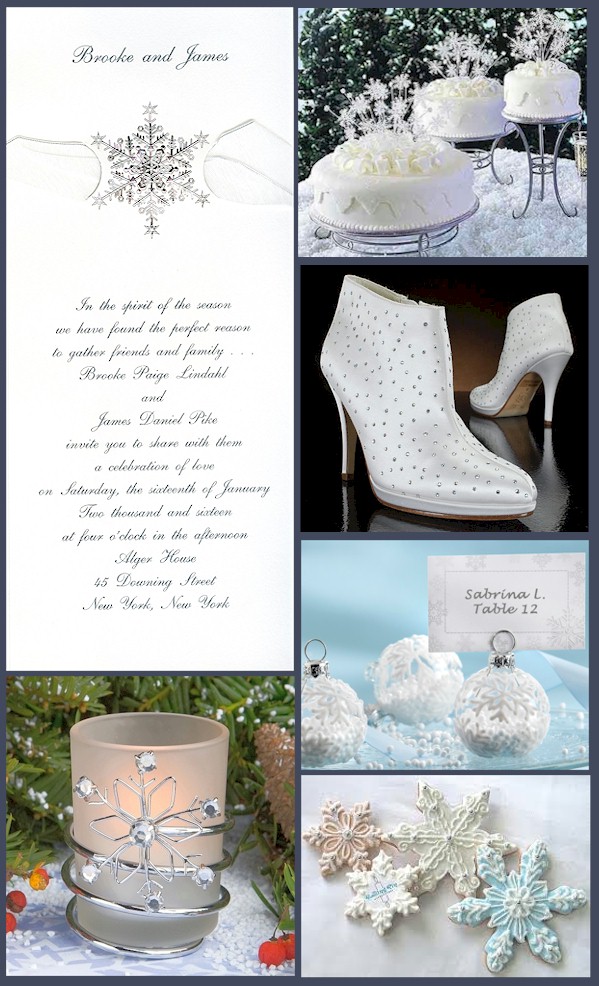 Credits:

Upper left: Sparkle Invitation

Top right: Winter Wedding Cakes

2nd from top right: Wedding Sparkle Boots

3rd from top right: Ornament Snowflake Place Card Holders

Bottom left: Frosted Snowflake Candle

Bottom right: Snowflake Cookies

Additional winter wedding invitations may be found here

By Jeanne Woodyard
Google+

Jeanne has worked in the printing industry for nearly 30 years and became the new owner of Invitations4Less.com on January 1, 2012.
When not working with our customers, Jeanne enjoys spending time with family and friends, RVing with her husband and spoiling her two kitties.


---
Comments
Blog Index